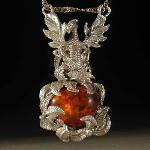 Fantasy Jewelry At Shining Moon Creations
Welcome to Shining Moon Creations the home of one of the largest collections of handcrafted fantasy jewelry on the web since 1999. Our fantasy ring and pendant designs include dragons, fairies, unicorns, and wizards. We also have many floral and animal rings. Visit our dedicated metaphysical website for a lager selection of pentagrams, ritual crowns, and other metaphysical symbols.
Please browse our galleries where you can see many of our newest designs. Please click on the links on the left sidebar for information and pictures of the jewelry that we ofer. If you find something you like just click the [Add to Cart] button and the item will be added to your shopping cart. We use a secure server your protection. If you prefer to deal directly with a human, please feel free to call or e-mail me. If you do not see what you are looking for in our galleries we can probably make it. Check out our Custom page for more information on custom orders.